The Solo Series – kolmen soolon ilta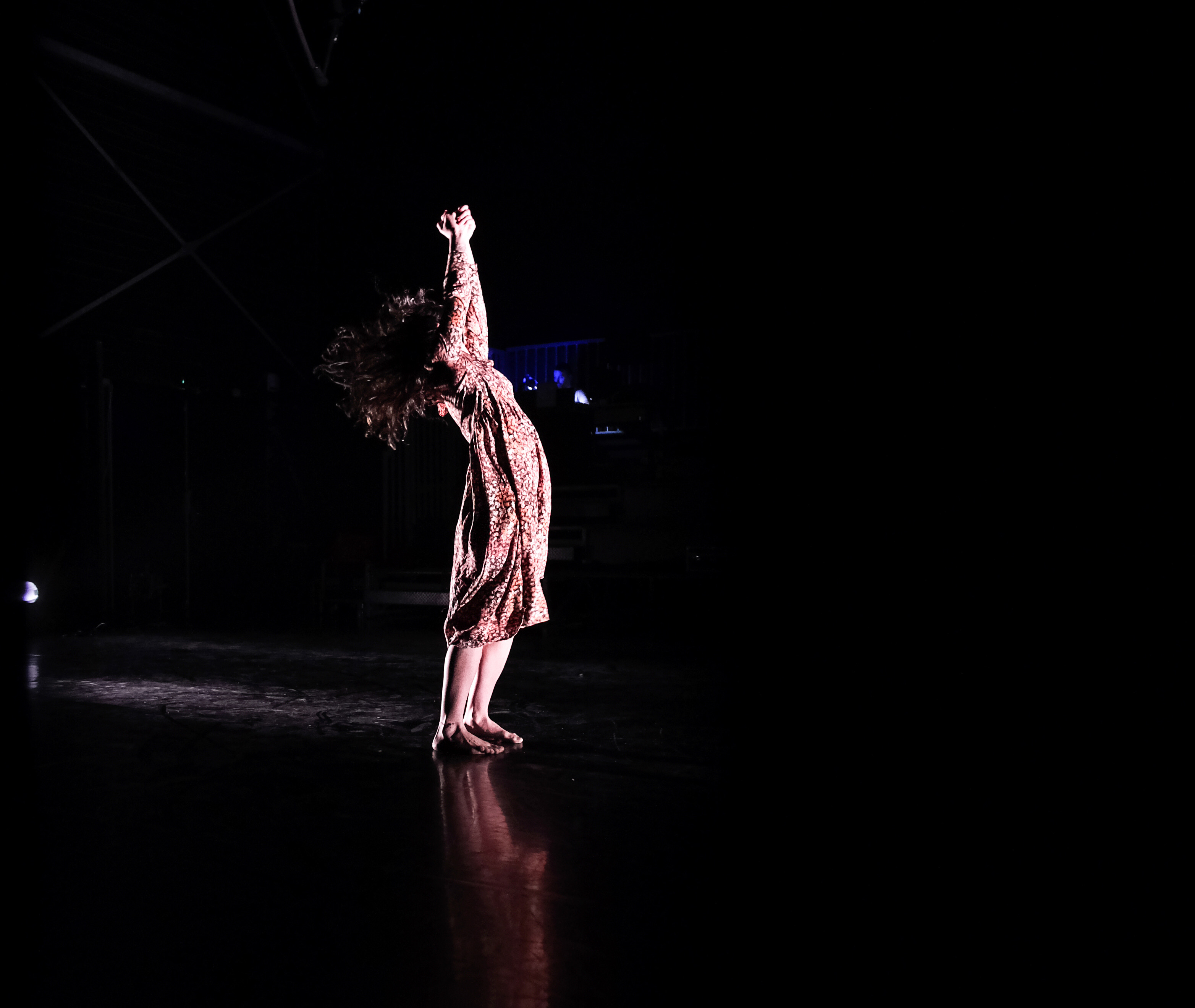 The Solo Series – kolmen soolon ilta
Esiintyjinä: Gavriela Antonopoulou, Maria Smith & Samuli Emery
Kultturitalo Villa Ranan Blomstedtin sali
Liput 25/15/0*
*= kaikki ovat tervetulleita esitykseen omasta taloudellisesta tilasta riippumatta. Emme halua, että lipun hinta osallistumiselle on kenellekään este. Ole yhteydessä mikäli koet lipun hinnan itsellesi saavutettamattomaksi: info@tanssinkeskus.fi
– – – – – – – – – – – – – – – – – – – – – – – – – – – – – – – – – – – – – – – – – – –
Body Monologue
Description
What can a body do? This is the unanswered and self-evident question that Anastasia Valsamaki's solo brings to the stage. Through this research, Valsamaki not only explores the body's expressive abilities, but the narrative provokes the dance language as well. Following the structure of the monologue, this work returns to the pre-linguistic, eloquent silence of the body speaking through movement. A silence made of gestures, pauses, malleable forms and unfamiliar body states attracts our gaze. Body monologue embraces the fluidity of meanings the body conveys through dance.
Credits
Concept & Choreography: Anastasia Valsamaki
Co-Creation & Performance: Gavriela Antonopoulou
Music: Konstantinos Bakogiannis
Costume: Eleni Valsamaki
Production: MINDTHELOOP
Video, photos, edit: Alekos & Christos Bourelias
BIO
Anastasia Valsamaki graduated with honors from the Greek National School of Dance, and made her debut as a choreographer with "Sync"in June 2016 with which she was selected by the Aerowaves network as one of the 20 promising emerging choreographers in Europe for 2017. The same year, she attended the Choreography Postgraduate Program (I.C.E) at the SEAD Dance Academy in Austria and presented "Sync" at the Athens & Epidaurus Festival. In 2020, she created DisJoint for the 7th Young Choreographers Festival of the Onassis Foundation and received the ARTWORKS award participating in the 3rd SNF Artist Fellowship Programme. For 2021, her work "Body Monologue" is promoted by the Aerowaves Network and her latest work ' W REST L ING' premiered at Athens, Greece. She continues to be an active dancer and choreographer, while at the same time teaching dance.
Gavriela Antonopoulou was born in Athens where she attended dance lessons from a very young age. In 2012, she began her studies at the Greek National School of Dance (KSOT) and performed with the Hellenic Dance Company choreographies by Martha Graham at the New York City Center, Akram Khan, Tono Lachky and more. In 2015 she graduates from KSOT with honours and continues to perform works from Anastasia Valsamaki ("Sync" 2016- 2017, "Body Monologue" 2018, "DisJoint" 2020, "W REST L ING" 2021 ), Andonis Foniadakis ("Facades" 2017, "Salema" 2019), Marianna Kavallieratou ("Bastet" 2018), Alessandro Schiattarella ("ONE AT A TIME" 2018-2019), Alexandros Stavropoulos ("On Wednesdays We Wear Pink" 2022) which are presented in several international festivals. She has also worked as an assistant choreographer for Alessandro Schiattarella and as a dance artist in the residency of Marianna Kavallieratos and Dom Bouffard at the Watermill Center in 2017.
– – – – – – – – – – – – – – – – – – – – – – – – – – – – – – – – – – – – – – – – – – –
A cute mess in a glacial silence
Created and performed by: Maria Smith
Dance of actions, theatres and acrobatic hopes
Act 0: Scenes of a girlhood.
"A cute mess in a glacial silence" is a solo
a solo performance of dance, acrobatics and
and theatre, which navigates between the absurd and the surreal
of a zapping of images and events.
A fantastic realism of the intimate space of a character who creates and revisits stories
as an essential means of continuing to exist
and hope, introducing a ferocious and disjointed fantasy about childhood – the efforts and pleasures of growing up.
MARIA SMITH:
Maria showed interest in dance and theatre from an early age, but it was in the circus that she found her first passion. She moved to Rio de Janeiro after winning a scholarship at the National Circus School of Brazil and at the same time she rediscovered dance at the Angel Vianna School. Since 2015 she decided to focus her artistic work on dance, doing several workshops in Europe, Argentina and Brazil with artists such as David Zambrano, Horacio Macuacua, Lucas Condro, Anthon Lachky, Peter Jasko, Judith Sanchez Ruiz and among others.
In 2018 he was introduced to Ohad Naharin's Gaga method by Bobbi Jene Smith, a movement language that influenced this project.
She currently resides in Toulouse, France where she has begun to create and build her first circus and dance show UN JOLI DÉSORDRE DANS UN SILENCE GLACIAL, a creation planned for autumn 2023.
– – – – – – – – – – – – – – – – – – – – – – – – – – – – – – – – – – – – – – – – – – –
We Do This. We Don't Talk.
Choreography / Koreografia: Barnaby Booth
Performance / Esitys: Samuli Emery
Duration / Kesto: 14 min
Music: "I Want You Back", The Shivers
Supported by: Susan Quinn and the Salzburg Experimental Academy of Dance, Solo Tanz Theater Festival Stuttgart, Gdanski Festival Tanca
"We do this. We don't talk" is a witty and gloriously over-the-top solo about the pursuit of authenticity. In a time of meticulously crafted online personas, this short solo celebrates the unique honesty of dance performance.
The solo is the result of choreographer Barnaby Booth's interest in approaching choreography as a form of portraiture, so that the audience might get to know performer Samuli Emery as they watch him dance.
"Portraiture is about exploring someone's identity and that's a very tender, vulnerable thing… The portrait is a handshake, the embrace, the agreement where we meet halfway along a collaborative path" – Photographer Tim Walker. In 2017 "We Do This. We Don't Talk." won the 2nd prize for "Best Performance" in the Stuttgart International Dance Theatre Competition in Germany and the "Audience's Favourite" prize in the Gdansk Dance Festival in Poland. After this the performance has toured extensively in almost twenty different cities and venues all over Europe.
SAMULI EMERY:
Samuli is a Finnish-British queer dance artist, performance maker, teacher, facilitator and more. They have immersed themselves in several Afro-American dance lineages such as voguing, hip-hop, jazz and house dance and also completed a formal Western contemporary dance education at SEAD Salzburg, graduating in 2019. Samuli has worked internationally with choreographers like Meg Stuart, Jerome Bel, Jill Crovisier, Ceren Oran, Hanna Brotherus and Sonya Lindfors and many others. Their main interests currently lie in radical uses of time, epicness, the sexual and communal origins of dance and creating spaces of care and solidarity.
Samuli on jyväskyläläislähtöinen suomalais-brittiläinen queer tanssitaiteilija, tanssinopettaja ja fasilitoija. Vuonna 2019 hän valmistui tanssitaiteilijan ammattiin Itävallan SEAD-akatemiasta, pääaineenaan koreografia, minkä lisäksi hän on syventynyt useiden katu- ja klubitanssien kulttuurisiin ja liikkeellisiin perinteisiin. Opiskeluaikanaan Samuli pääsi esiintymään monien tunnettujen tanssintekijöiden, kuten Wim Vandekeybusin, Trisha Brownin, Julyen Hamiltonin, Milan Tomašikin ja Helder Seabran teoksissa. Samuli on viimeisen seitsemän vuoden ajan työskennellyt hyvin laaja-alaisesti Suomessa ja muualla Euroopassa, esimerkiksi Meg Stuartin, Jerome Belin, Jill Crovisierin, Ceren Oranin, Hanna Brotheruksen, Sonya Lindforsin ja Jaakko Niemisen produktioissa sekä Suomen tunnetuimpien artistien, kuten Isac Elliotin, Elastisen, Saara Aallon, Apulannan, Jari Sillanpään ja Club for Fiven kanssa. Hän on saanut useita palkintoja ja stipendejä saavutuksistaan esiintyjänä ja koreografina kotimaan lisäksi Saksassa, Puolassa, Virossa ja Italiassa.
BARNABY BOOTH:
Barnaby is an award winning lighting designer and choreographer.
A graduate of the Northern School of Contemporary Dance (NSCD) and the Salzburg Experiemntal Academy of Dance (SEAD), he has choreographed for English National Opera and is an associate artist of TRAK dance Ensemble (Austria), whilst his commissions include Los Little Guys (US/Mexico), Poetic Disasters' Club of Club Guy & Roni (Netherlands), Folkwang Tanzstudio (Germany), Dantzaz Dance Company (Spain), Verve (UK), Northern School of Contemporary Dance (UK), Roehampton University (UK) and Bodhi Project (Austria). He has also contributed work to various short films and music videos.
His lighting credits include work for Sita Ostheimer, DeNada Dance Theatre/Carlos Pons Guerra, Jamaal Burkmar/Extended Play, Andrea Costanzo Martini, National Dance Company of Wales, Jack Philp, Northern Rascals, Akeim Toussaint Buck/Toussaint to Move, Wilhelmina Ojanen, Abbott Dance Company, Impact Dance/Hakeem Onibudo, Unholy Mess Theatre Company, Feet Off the Ground Dance, Northern Ballet, Mavin Khoo, Ieva Kuniskis, Tora Hed, Crystal Zillwood, NSCD Verve and Mala Kline.